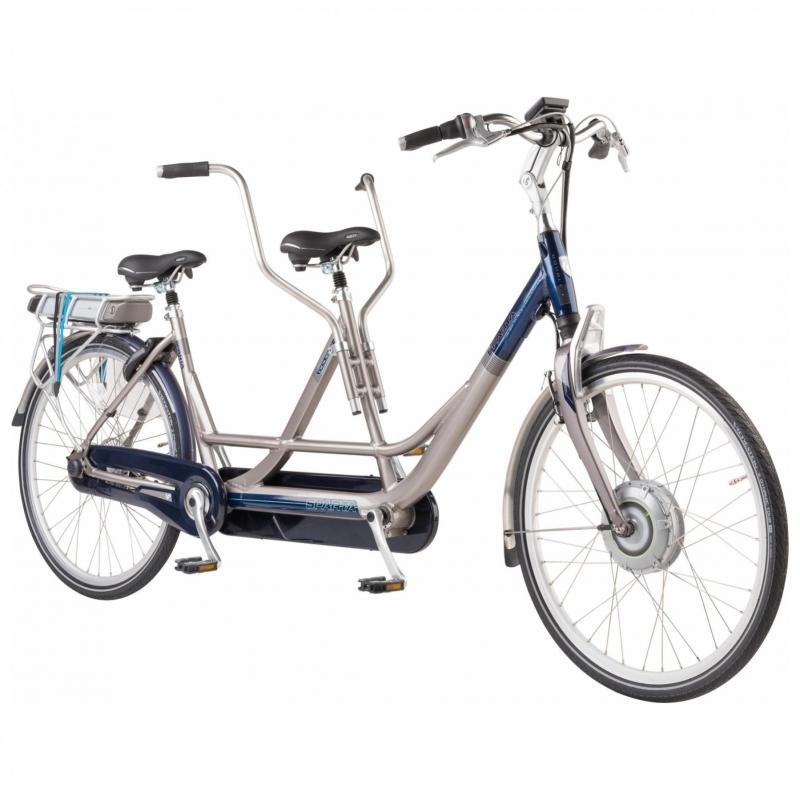 28 inch Sparta Double F8i 8 Speed elektrisch 300 - 600Wh grijs/blauw unisex
Article code 00000431 EAN Code 8713568308359
Met de Double-I kun je met z'n tweeën eropuit en genieten. Door de ondersteuning van de geruisloze ... read more
Retail price:

€ 3.249,00
Discount: € 299,00
€ 2.950,00
This item is currently limited in stock. Questions about the estimate time of delivery? Feel free to contact us!
Extra specifications
Battery upgrades

400, 500 and 500Wh

Color

Gray

Engine

Front wheel

Battery pack

8,8Ah - 320Wh

Rear light

Bicycle battery

Front light

Bicycle battery

Rear brakes

Rollerbrake

Gears

Shimano Nexus 8

Men/Ladies

Unisex

Wheel size

28 inch

Frame size

d.n.a.

Front brakes

V-Brake

Frame

Aluminium
Description
Met de Double-I kun je met z'n tweeën eropuit en genieten. Door de ondersteuning van de geruisloze voorwielmotor kan je ook langere afstanden afleggen dan normaal. De voor- en achtervering zorgen voor een comfortabele rit.

Extra opmerkingen
Al onze fietsen worden afgemonteerd geleverd. Fietsen die u in de winkel koopt 100% afgemonteerd, fietsen die u online besteld 95% afgemonteerd. In het geval van een online aankoop dient u slechts de laatste onderdelen erop te zetten maar hiervoor ontvangt u gereedschap en een duidelijke handleiding.
Frequently asked questions
Other customers have not asked questions about this product.

---
Do you have a question about this product? Feel free to ask us! Fill out the form below with your e-mail adres and your question and we will reply your e-mail as soon as possible with a maximum delay of 24 hours.


Reviews by buyers
There are no reviews for this product.